Meet the Artists: Lorna Radbourne
---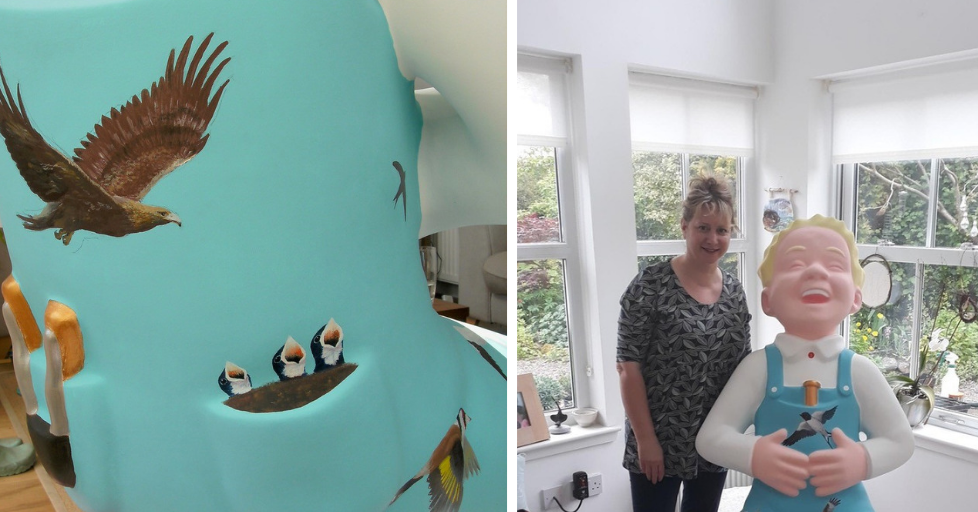 The talented Lorna Radbourne is busy designing 'Soaring'. Following her son's hospital treatment, each bird represents Matthew turning 21 – an important milestone for the whole family.
Lorna tells us more about her inspiration for this wonderfully detailed design:
"My son had regular treatment at the children's hospital for over 14 years. For my bird-focused design, it was important for me to express that feeling of taking off and being free – something children long for, particularly when spending long periods in hospital or facing personal challenges.
"I've worked with many children throughout my career as an artist, including those on the autistic spectrum, and one thing that resonated with me is that art creates an opportunity for children to express themselves, to flourish and to be who they want to be."
"I've purposely created an accessible piece of art and have chosen to incorporate as many Scottish bird species on my design as possible. I hope children visiting the trail will enjoy learning about Scotland's wildlife through visiting 'Soaring' and feel inspired to learn more about wildlife at home."
"The hospital holds a very special place in my heart so I was utterly delighted to be chosen as an artist for Oor Wullie's BIG Bucket Trail. The support the charity gave us while in hospital was invaluable, including welcome Play Therapy distractions for Matthew like the Clown Doctors and Thera-pet visits. Both my son and daughter have helped in painting 'Soaring', which has been an important part of the process for me. I just cannot wait now to see all the other designs and get out on the trail – it's so exciting!"
Soaring and over 200 other Oor Wullie sculptures will take to the streets of Scotland from 17th June, culminating in a series of auctions to raise funds for Scotland's children's hospital charities.
Find out more about Lorna's fantastic artwork including beautiful stained glass pieces below: