Cyclists set off on 500-mile charity challenge!
---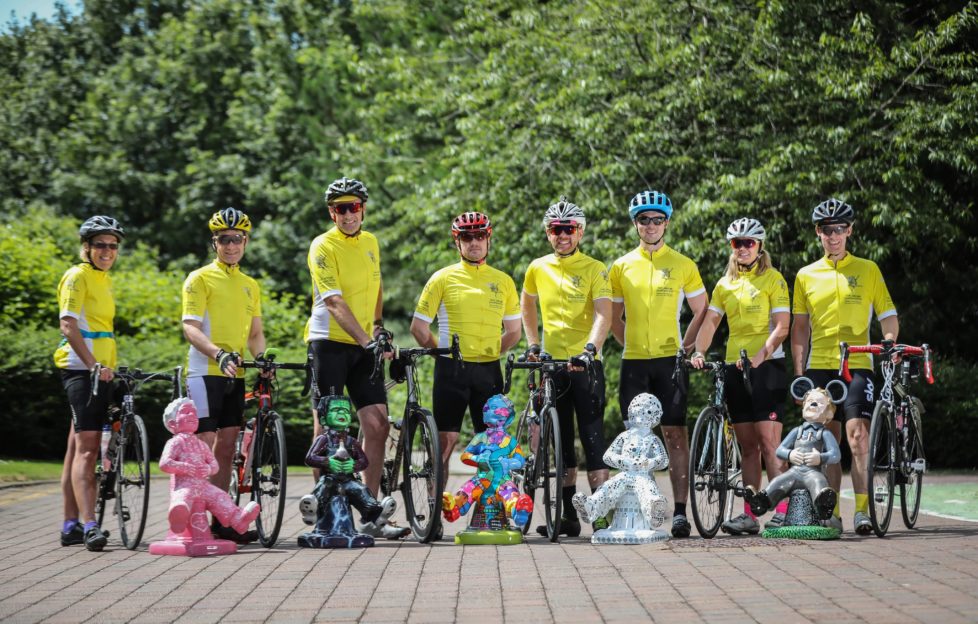 A team of charity champions set off on their epic Oor Wullie's BIG Bucket Trail cycle challenge today to raise money for The ARCHIE Foundation.
Riding more than 500 miles over four and a half days, the team from ATM manufacturer NCR will ride from Dundee to Edinburgh, Glasgow, Inverness, Aberdeen and back to Dundee, marking the five cities of the nationwide public art trail.
Mike Rennie, Andrew Christie, Andrew Smith, Fraser Spowart, Grant Kidd, Jenny Warden, Jim Colville, Phil Duncan and Zoe Ni Dhuinn-Bhig were piped off from the Discovery building in Dundee, before heading along Riverside and passing the V&A to head over the Tay Road Bridge.
The group, joined by team car driver Ajit Choudhari and team mechanic Mark Sampson, have already reached over 70% of their fundraising target of £3,000.
The ARCHIE Foundation is the official charity of Tayside Children's Hospital and is working in partnership with NHS Tayside to help create a new Children's Theatre Suite at the hospital, which will double the current capacity for operations in a child-friendly, age appropriate space.
Mike Rennie, who is leading the riders said: 'The whole team from NCR are very excited to get started with our ride, our fundraising for The Archie Foundation has been a great success thus far and we hope to raise more as we go.'
'We are so proud to be supporting The Archie Foundation, we know the work they do is so important to the families of children having hospital treatment in Tayside and around Scotland!'
Mark Sampson, owner of SNDB Cycles, said: "SNDB Cycles are delighted to be sponsors for the big bucket challenge in aid of the Archie Foundation. The foundation does amazing work and we're grateful for the opportunity to provide the raffle prizes as well as a support mechanic for the trip. To be able to do so and at the same time, get to see some of the most beautiful parts of Scotland is an amazing opportunity…although thankfully, I'll be seeing it from the support van!
 The team have put in a huge amount of effort, both in training and logistics. Thanks especially to Mike Rennie and Andrew Christie for their organizational skills, without which, the challenge simply would not take place.
 We know there are so many charities that all do fantastic work, so can we ask that the next time you do give, please give to Archies. If you can't afford a donation, please share through social media; the link is on our Facebook page. Everyone can do something to help raise as much as we can for this incredible charity and to help sick kids from all over Scotland feel just a little bit better."
Sarah Johnston, fundraising manager for the charity, said: 'We know that a lot of really hard work has gone on already as the team had to take on a lot of training to get ready for this epic challenge.
'We are so grateful to all of the cyclists, and to everyone who has sponsored them. We look forward to seeing photos from their adventure and wish them all the very best of luck.'