Oor Patter by Claire Barclay
---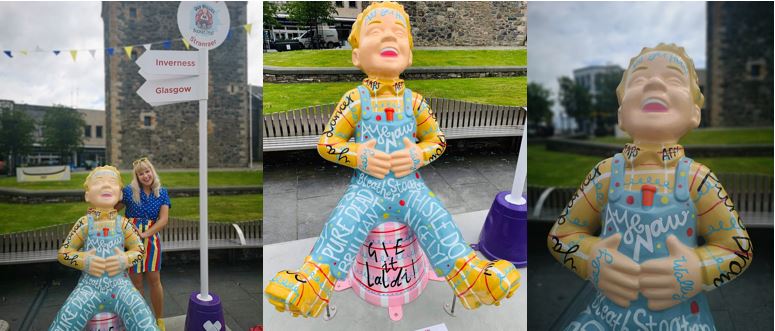 Oor Wullie is Scotland's favourite son and an iconic Scottish character. This week on the trail we're celebrating Scotland!
Claire Barclay is a Glasgow based illustrator who creates works and gift products inspired by her love of the Scottish lingo! Claire created Oor Patter.
"I just loved the idea of working in a totally different medium, this is my first sculpture trail and the first time I've worked on such a large scale 3D piece of work. I'm used to drawing my designs pretty small just onto paper, so this was a fun challenge to try something new and I'm really pleased with the results."
"Oor Patter is a celebration of some of Scotland's best loved slang and sayings. A lot of the work I create is a celebration of Scottish dialect as well as the funny quirks and sayings we have. I also thought it would go nicely on Oor Wullie as he loves to use proper Scot's language and so it's a fun twist on that!"
We asked Claire to share what was special about the Scottish language and if she has a favourite Scottish word or phrase;
"I love the Scottish language and patter because it always makes me smile and can be pretty funny at times. I'm so proud to be Scottish and I love to create works that celebrate that. I'd have to say my favourite Scottish phrase is 'Pure Dead Brilliant' as it's just so lovely and positive."
Oor Patter is kindly sponsored by HSC Group Stranraer and can be found at Castle Square in Stranraer.