Schools
Oor Wullie's Wee Bucket Trail has been a feast for the imagination with over 300 wee Oor Wullie sculptures on display across Scotland for all to visit and admire. Each sculpture is completely unique and designed by wee yin's and big yin's at nurseries, schools and community groups and they've all had a richt braw time creating their wee Oor Wullie sculptures.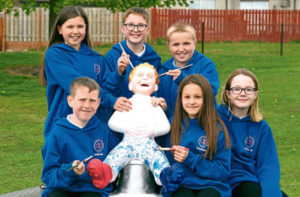 We're delighted to have had such great enthusiasm from these young artists in bringing Oor Wullie to life by creating such original designs while also engaging in important topics of Scots language, health and wellbeing, and fundraising for their local hospital.
Oor Wullie may sometimes not be the greatest fan of school himself, but if he saw the creative classroom activities that the BIG Bucket Trail has inspired he may change his mind about school altogether.
The BIG Bucket Trail has raised awareness of Oor Wullie's mother tongue of Scots which we are very proud to see. All involved have been reading about Oor Wullie's adventures, as well as learning Scottish poems and songs.  We've heard some fantastic renditions of the Heid, Shooders, Knees and Taes, Skinny Malinky Long Legs and the Jeely Piece Song and know that the children have been performing at concerts for all to enjoy.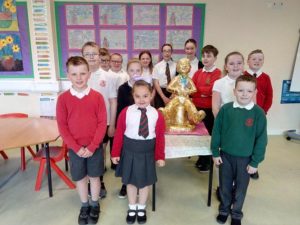 Oor Wullie and his pals of Fat Boab, Wee Eck and Soapy Souter have been in the spotlight too with children discussing themes of friendship and anti-bullying, and learning Scottish jokes to tell one another, as we know, Oor Wullie's gang like to have a laugh. Children also created their own comics, organised day-trips and outlined budgets to visit all the sculptures around the country, and had a go at eating and making Scottish foods that Oor Wullie loved such as mince 'n' tattes and jeely piece sandwiches.
Even more so, while they were busy doing this they also raised money to support their local children's hospital. There were some braw fundraising activities indeed with themed days around wearing dungarees and spikey hair, having ceilidhs and celebrating all things Scottish, and even holding teacher torture days. All days which we know Oor Wullie would have loved to have attended.
As you can tell the energy has been incredible from all who participated and we're grateful to everyone for making it so special. Many of the young people who took part have been treated in hospital, or have classmates who are patients, and it's been brilliant to see everyone come together to support one another.
Lyoncross Nursery: "The children have been fully involved from the minute "Oor Wullie" came into the nursery.  They have made every decision about how he should look and through their thumbprints have shown everyone how involved they have been.  Our children and families have embraced all aspects from making slingshots in the woods to our fundraising Scavenger Hunt and all other fundraising activities.  It has been exciting, challenging and fun!"
Notre Dame PS: 'Notre Dame was honoured to be part of the Oor Wullie campaign.  The charity has helped so many children in our school and community.  The children put in so much effort to produce the statues, we are delighted with the final pieces.  Our pupils will enjoy going on a mission to try and find all the Oor Wullies'.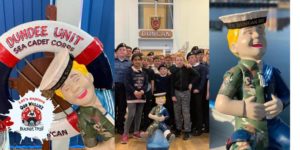 Over the summer these sculptures will be displayed in community locations such as libraries and community centres, and once the trail is over they will be returned to the school as a permanent memento of their involvement in the trail.
The benefits:
Showcase pupils creativity with a mini Oor Wullie sculpture which will belong to each school at the end of the trail
Unite the community by bringing together local schools to create a free sculpture trail which is accessible to all
Celebrate Scotland's heritage with a fun Oor Wullie themed cross-curricular education pack which complements key stage learning in numerous subjects
Raise the profile of the school at a national level with inclusion on the Oor Wullie's Big Bucket Trail website and the official trail map
Invest in local children and support the work of Edinburgh Children's Hospital Charity, Glasgow Children's Hospital Charity and The ARCHIE Foundation