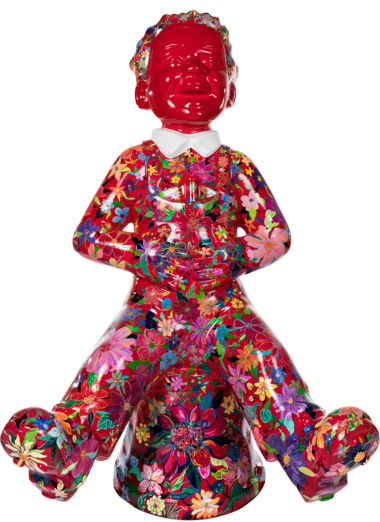 How Does Your Garden Grow?
This sculpture features vivid, bold floral patterns depicting peonies in multicolours from buds and leaves to full bloom, growing all over Oor Wullie.
Find Me
Artist
Marcella Wylie
Marcella Wylie studied Textile Design at Duncan of Jordanstone College of Art in Dundee, graduating in 2008. Her background in textiles is very much connected to her work which is inspired by flora and fauna. She enjoys celebrating the extraordinary diversity of nature, its shapes and forms as well as its bold and sometimes unexpected colour. Marcella's paintings and illustrations are often mixed media but the use of watercolour alongside vivid, vibrant inks also features heavily in her work, resulting in strikingly beautiful, ornate and eye-catching pieces. Alongside her bright and bold paintings, Marcella has worked as an illustrator, attracting a wide variety of commercial clients with her unique style.
Sponsored By
ScotRail
Responsible for running over 2,500 trains per day and managing and maintaining over 350 stations, ScotRail are the 5th largest company in Scotland, comprising of more than 5,000 railway staff throughout the country. ScotRail place the needs of our passengers at the heart of everything we do. A huge transformation of our network is underway - with new faster trains, upgraded infrastructure and redeveloped stations - while running more services than ever before. Our ultimate aim is to build the best railway Scotland has ever had.