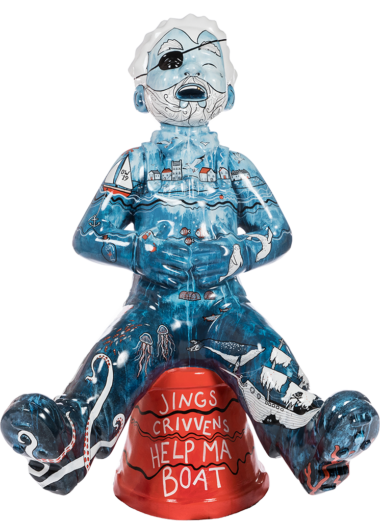 Jings, Crivvens, Help Ma Boat!
Can you imagine what might be hiding beneath the surface of the misty waters of our Scottish coastline? This sculpture was inspired by the colours and imagery of coastal towns. The artist, Tori Gray has had fun turning Oor Wullie into an old man of the sea and thinking about what lies beneath! What can you spot?
Find Me
Artist
Tori Gray
Tori Gray is an illustrator and owner of Harbour Lane Studio in South Queensferry. The studio is an open plan space, housing a shop that stocks work by over 60 different artists and makers based in Scotland as well as her studio space. Tori works mainly in watercolour to create images inspired by the Scottish landscape that she then applies to various homeware items, most popular being her illustrated lampshades. Her bespoke lampshades featuring customer's favourite places and memories are a big hit in the studio and you can even pop in and watch her making them. The location of the studio is a huge influence on Tori's work and as a result, a lot of her illustrations have an inky/watery feel.
Sponsored By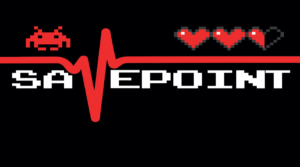 Save Point started in 2010 as Sick Kids Save Point, a 24-hour gaming marathon to support the work of Edinburgh Children's Hospital Charity. It quickly grew into a major fixture of Scotland's gaming community. Several individuals, clubs, families and workplaces have taken part, taking on some unique challenges as part of the annual event. It has also had the backing of key industry players like local games giant Rockstar North, who have supported Save Point every year. In its previous 9 years, Save Point has raised an extraordinary £127,000 to help support the 110,000 children and young people that visit The Royal Hospital for Sick Children every year, and this year's tenth anniversary hopes to reach the £150,000 mark. Save Point X will run over the weekend of the 11th,12th and 13th of October. "Having a child made me realise how vital the work of Edinburgh Children's Hospital Charity is, providing the extra support children need so they can be listened to and treated like children, not just patients." Tom Freeman, organiser.