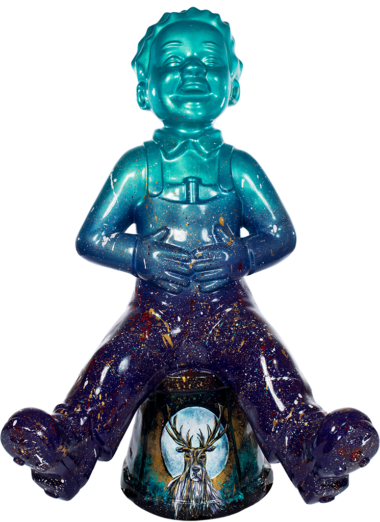 O'er The Heathery Braes
O'er The Heathery Braes was inspired by the beauty of the Scottish landscape, the beautiful colours, the heather, the wildlife and the amazing forests that we have here in Scotland. The colours which adorn Oor Wullie were inspired by the breathtaking sunrises.
Find Me
Artist
Erin Michele O'Shaughnessy
Erin is a Glaswegian scientist/amateur artist. Painting is her passion, her way of relieving stress and a way to express her creative side. She has an abstract style that uses acrylic paint to paint woodland scenes that often feature Scottish wildlife such as stags and highland cows. She enjoys using bright colours and iridescent tones that capture the light, bringing a sense of life to her paintings. Her paintings are all about fun, life and happiness. It is her wish to inspire joy with her works of art.
Sponsored By

The Reid-Timoney Charitable Foundation (RTCF) was established by Steve and Alison Timoney to assist various charities focused primarily on supporting the treatment and care of children with chronic health and social issues. A main focus of the RTCF is the funding of initiatives and equipment for Glasgow Children's Hospital to ensure the best level of care is available. The ultimate aim is to make a significant difference to the lives of people who need to be supported through their most challenging times.