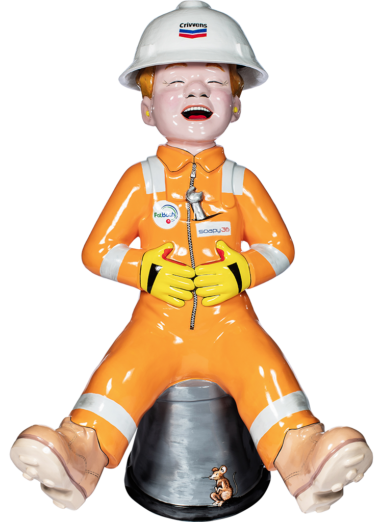 Oor Roughneck
The idea for Roughneck Wullie came from the North East's long association with the oil and gas industry. Oor Wullie may well have grown up to work on the rigs, and being a cheeky lad he would probably have smuggled Wee Jeemy moose out too. The artist, Catriona MacKenzie, a Milliner, wanted to create a sculptural Wullie with a hat, and her design fits the brief and adds some humorous touches with the logos on his bright coveralls.
Find Me
Artist
Catriona MacKenzie
Catriona MacKenzie has done a number of projects for the Archie Foundation and is thrilled to be included on Oor Wullie's Big Bucket Trail. Her day-to-day work is in Millinery but she frequently gets involved in other 3D design, art and craft work. She also runs a community craft club just outside Inverurie where she lives.
Sponsored By

The Evening Express is Scotland's best-selling evening newspaper and has been serving Aberdeen and the surrounding areas for more than 140 years. Based in new offices at the heart of Aberdeen city centre, the EE delivers hard-hitting and heart-warming stories from across the region, six days a week. The Evening Express is proud to support the Oor Wullie Big Bucket Trail.