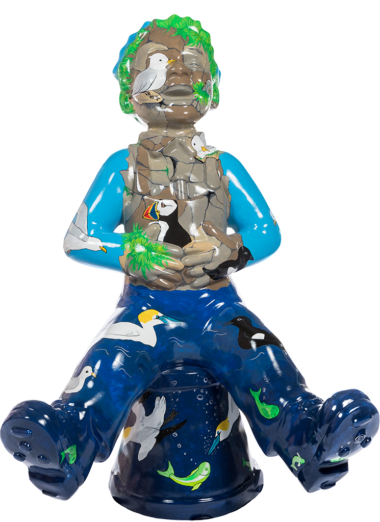 Seabird Spotting
Seabird Spotting is a celebration of Scottish seabirds and Scotland's Coast. Oor Wullie has become a sea cliff that supports the birds living there. Sea birds nest on him, fly round him and feed in the waters around his feet. Look at the back of his bucket for a list of the different sea birds and fish that can be found on the sculpture. Can you spot them all?
Find Me
Artist
Hannah Sanguinetti
Hannah Sanguinetti is an Edinburgh-based children's author/illustrator and doll-maker. Heavily influenced by textile crafts and with a colourful quirky style, Hannah's doll-making skills often spill over into her illustration. Birds, animals and the natural world are some of Hannah's favourite subjects to draw, and at weekends she can often be found out walking with her family, sketchbook in hand. Hannah has recently been awarded the Moniack Mhor Writing for Children award 2018, and the Margaret Carey Scholarship for Illustration 2018.
Sponsored By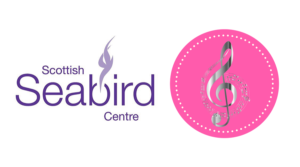 The Jess Mackie Memorial fund was set up by Michael & Jacqueline Mackie in memory of their beautiful daughter Jess Mackie who sadly passed away on 2nd January 2018 aged 14.  Jess was passionate about singing, she was member of The National Youth Choir of Scotland, she sang in school concerts as well as with the Aberlady & Gullane Church Choir. She also sang at Charity events for other good causes.   Jess instinctively knew how music could help bring comfort where needed and ease pain. The Fund is supporting the Edinburgh Childrens Hospital Charity via their Music & arts Programme which aims to help those in hospital regain a sense of control by providing an outlet for expression and creativity. Many children in hospital are particularly vulnerable because they lack control over what is happening to them. It is this lack of control that makes the positive effect of music in hospital particularly important. We want to support ECHC simply because they were wonderful whilst Jess had to stay there when younger due to her Asthma but also how well they looked after all of us when Jess passed away. We will always be grateful.