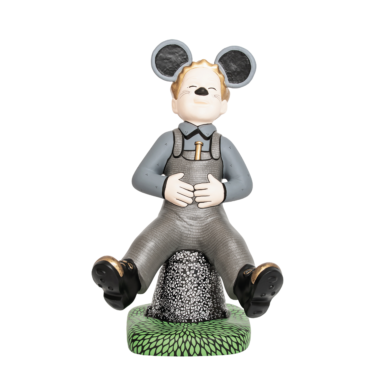 Wandering Wullie: See You Jeemy
Oor Wullie heard that he could dress up as anything he wanted for his BIG Bucket Trail and immediately decided to dress up as Jeemie - his pet moose! Wullie's Maw made him very special furry dungarees and he dug a mousey grey shirt out of the wardrobe to match. He painted some rope for a tail that he pinned onto his dungarees and drew a nose and whiskers onto his face with felt tip pens (not sure your maw will approve of that Wullie!) Primrose decorated his bucket for him too - so sweet! His favourite bit of the costume are the huge mouse ears that he made out of old saucers. He's very proud of them. Well if you're gonna dress up as your pet moose - go big or go home! Nice one Wullie!
Artist
Suzanne Scott (WhimSicAL Lush)
Suzanne Scott is a Dundee-based artist and illustrator working under the name WhimSicAL LusH. She creates unique, quirky illustrations that feature on ranges of prints, stationery, homeware and more. Working with businesses both large and small she helps them tell their stories too, via illustration. Suzanne secured prominence as a public artists with Dundee's Discovery Walk (in Dundee's new waterfront) and has been part of several public art trails, including the first Oor Wullie's Bucket Trail, where she was both art co-ordinator and an artist. Over the last few years Suzanne has raised approximately £116,000 for charity with her illustration work and been part od charity teams helping to raise £1,423,000!