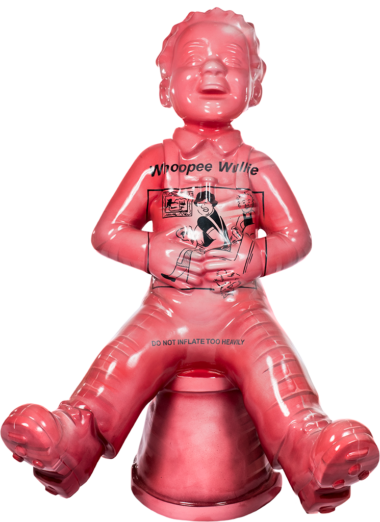 Whoopee Wullie
Whoopee Wullie sees Oor Wullie depicted as a huge Whoopie Cushion – true to his style, full of cheek and practical jokes.
Find Me
Artist
Conzo Throb
Colin, better known by his street name Conzo Throb, is a Glasgow based doodler specialising in graffiti art, street art, illustration, design and mischief. Some of Conzo's best known work are the "Are Ye Dancing? Are Ye Askin? I'm Askin. I'm Dancing" murals that face each other in the tunnel leading to Sloan's Bar (the oldest bar in Glasgow).
Sponsored By
Rising Stars High Quality Early Learning and Childcare
Jings, Crivvens, Help Ma Boab! We have been providing high quality early learning and childcare in the heart of Glasgow's communities for over thirty years at Jobs and Business Glasgow Rising Stars. We are delighted to support Glasgow Children's Hospital Charity, who like us, care passionately about our children and young people.