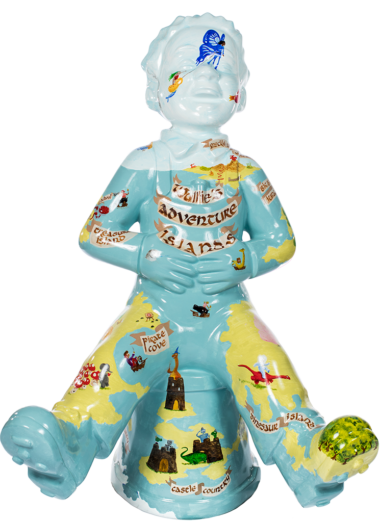 Wullies Adventure Island
Wullie's adventure islands are filled with characters you might find in storybooks - they have been there a while and are getting to know people on the other islands - having adventures and finding their way. Meet dinosaurs, unicorns, pirates and so much more on the way.
Find Me
Artist
Ryan S. Thomason
The artist, Ryan, is a freelance map-maker, illustrator and calligrapher, with a fascination for everything from ancient history to outer space to the deep sea. He was raised in Shetland and lives in Dundee, where books are slowly taking over his house. As a child Ryan was always fascinated by fictional maps and big illustrated scenes in books, he would spend hours looking at the pictures and creating stories with the characters.
Sponsored By
Glasgow Airport
With 30 airlines serving more than 120 destinations worldwide, including Canada, the US, the Caribbean, Europe and the Gulf, Glasgow Airport is Scotland's principal long-haul airport welcoming millions of passengers each year. In addition to being Scotland's largest charter hub, Glasgow Airport serves more Scottish destinations than any other airport and is a key component of Scotland's transport infrastructure. The airport supports over 30,000 jobs across Scotland and makes the largest contribution of any airport to Scotland's economy, generating £1.44 billion (GVA) annually.